MADHERO: Hey everyone, here on a very special episode of At the Screwvies. This so for real, because we're talking about an icon who has sadly left us last Monday. Stan Lee, an undisputed icon of not just comics, but pop culture and modern culture, has passed at the ripe old age of 95. Even at that age, his death felt like something of a shock, and it felt like quite the whiplash after the fun we had with Detective Pikachu. Its been a weird week, and we decided someone of his stature deserves a fitting tribute.
STICKMAN: Hello all, shame this isn't a happier reason for doing a Screwvies.
LARRY: Only feels fitting to take some time to talk about someone who was at the very foundation of some of the culture we talk about on this show!
STICKMAN: Certainly feels like we talk about something related to Stan Lee at least once an episode.
MADHERO: Let's not be a Bill Maher about this. Even if his start was in comics, its next to impossible to talk about him without his contribution to cinema. While not directly, his limitless imagination with the characters he's created and co-created has resulted in the biggest blockbusters we see today.
STICKMAN: He always had an eye for the big screen and it certainly started coming together for him in recent years...to put it lightly.
LARRY: And you could tell he was having a blast seeing all his characters up on the big screen. And the fact he was so willing to put his stamp of approval on such a huge use of his characters has to say something. Hell, he was even IN them.
STICKMAN: Even right up until the end he was bouncing around being the giddy comic book fan.
MADHERO: Stan Lee always felt like someone truly energized by the adoration he received from his fans and the people who worked around him. He was obviously really frail in recent years, which is more than normal at his age, but he also always seemed spry in interviews and fan interactions.
STICKMAN: He was doing pretty damn well for someone his age until the last few months that's for sure.
LARRY: To be fair, living to 95 is quite an achievement in and of itself.
MADHERO: Its a shame that I'll now never get to experience that. Would've been a dream to see him and thank him for what he's done
STICKMAN: Even in recent years he'd begun winding down his appearances, his final UK comic con was a few years ago.
LARRY: Yeah, but now we know he's resting well with Steve Ditko, coming up with new ideas as we speak. Been a rough year, lost two comics giants in one year...
STICKMAN: We lost more than that, but from the Marvel camp particularly, yeah.
MADHERO: Ditko was obviously super-private when compared to Lee. That's of course also where a lot of controversy came in. Lee was such a showman that it could often feel like he took all the credit for the work done by the likes of Jack Kirby and Steve Ditko. I feel that can often lead to a over-correction of history, cause its not like he was just the hype man. He did contribute to a lot of those characters and what made them tick.
LARRY: I think it's fair to give them all credit in different ways for contributing to comic history and pop culture history.
STICKMAN: He certainly contributed a lot to the brand and personality of Marvel as a publisher.
LARRY: I really hate this odd undercurrent of negativity surrounding those who still have this chip on their shoulder about Stan Lee "stealing credit," especially right now with his passing. I've seen them pop up in some threads. Kinda wish we could respect the man and let his family have some peace and condolence.
MADHERO: That negativity is definitely the minority. He was flawed, as are we all. That's his main contribution to his characters: they felt human when compared to the big heroes at DC at the time. Starting with the Fantastic Four, he had a knack for making characters feel real and relatable while their experience were far from them.
STICKMAN: Even if the Fantastic Four are hella lame.
MADHERO: I wouldn't go that far. I think a lot of great material has been done with the Fantastic Four. I love The Thing for example. Just so happens that no one has been able to make a good movie out of them.
STICKMAN: Maybe we'll see that one day in the future.
LARRY: Let's hope, maybe in tribute.
MADHERO: Maybe under Marvel they will. Speaking of FF though, what are some of your favorite characters from him? I mean....I think i can guess, cause I know about mine.
STICKMAN: I mean, Spider-Man, dude. That is my childhood superhero. As someone who never grew up with comics, due to their scarcity in my area, it was Spider-Man, first in the cartoons and then in the movies who introduced me to that medium, and made me want to get into it...of course...I never managed to because it was on Issue 356 and expensive, but hey ho.
LARRY: That seems to be the ultimate beloved character from his library, I think. Especially based on the comics.
MADHERO: Yeah, Spider-Man for me as well. As a introverted nerd, needless to say I found him instantly relatable and I've got of course a childhood fondness of the Raimi trilogy and the 90s series
LARRY: I think that speaks largely on the value of comic adaptations. Since they're scarce where you're from, it was other media that engaged you.
STICKMAN: Spider-Man is both relatable and inspirational at the same time. Also he got a cool costume and swings around and shit. The first Spider-Man movie blew my god damn mind when I saw it as a kid.
MADHERO: True. Besides Spider-man, what other character do you feel really encapsulates Lee's mantra of characters. For me personally, I genuinely have a soft spot for The Hulk. It started because green as my favorite color, but I genuinely also really enjoy his struggle of not becoming the monster we all want to see. Especially in elementary school, that again felt weirdly relatable getting into fights as a kid
STICKMAN: In terms of growing up with superheroes, it was mainly Spider-Man and his band of rogues for me. Obviously Iron Man was later a big thing for me, whilst Spider-Man represents a lot of what's aspirational in life, Tony Stark often represented some of my more negative traits, but both still managed to be good guys in the end.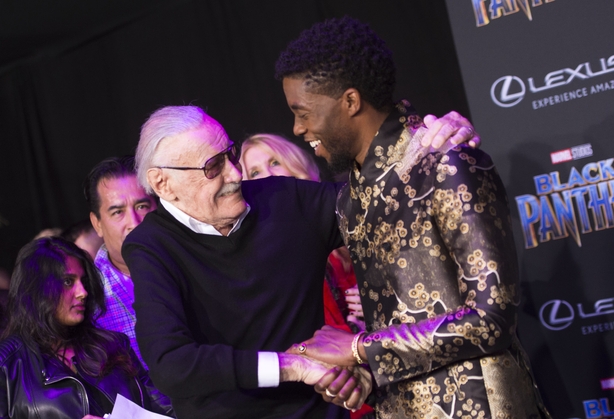 LARRY: My personal favorite has always been Black Panther, and this was before his massive resurgence. He always was the coolest, sleekest, most badass superhero whenever I saw him in an Avengers comic or television show. He always had this Batman-esque quality to him, and as a kid obsessed with Batman, that really got me invested in his lore and world. I get why people really love Spider-Man too, he's a great character. But I was always more interested in the adult characters because I kinda matured a little too quickly.

STICKMAN: I still admire Spider-Man as an adult so maturity ain't got nutin to do with it.
MADHERO: Black Panther was really risky at the time when you realize he was created in the late 60s
LARRY: Yeah, I realize that now in hindsight. But at the time, I obviously wasn't really looking at the nuances of skin color in comics. He was just this badass, awesome hero who had amazing combat skills and a killer costume who always was one step ahead of every other Avenger.
MADHERO: Neither was I. I was introduced to Black Panther in Marvel Ultimate Alliance and by that point the concept of a black superhero wasn't that big a deal to me, but that must've been massive then, and it was now with his feature film.
STICKMAN: I mean, Black Panther is the defining superhero of this year.
MADHERO: I think both BP and a lot of his heroes were used to tackle many different issues. While he didn't make the popular versions of the X-Men, those were of course a major allegory for racism at the time, something that's been elevated in other stories. Same goes with Iron Man and dealing with alcoholism. Lee realized his stories could be used to inspire and deliver important messages to the world, which I feel is important to this very day where people try to desperately portray art as apolitical
LARRY: Spider-Man was like...the first major superhero to tackle problems surrounding young people. Every one of his heroes, big or small, tackled something interesting and had a complexity to them. That's why his characters have stood the test of time, there are nuances for each one of them, and each one has a unique background.
STICKMAN: I think the heart behind the hero is what makes them special. And Stan Lee represented that heart big time.
MADHERO: Definitely. But besides his stories and characters, there's probably one thing that's made him famous for us: his cameo's. Over the years, starting with the Hulk tv movie, he's appeared in a ton of different properties in some form or another. The fact his Venom cameo is his last one after his death kinda stings, cause his cameo there was probably his lamest. That said, he's got more in the pipeline, and plenty of those are in fact pretty great.
STICKMAN: What was his Venom cameo like.
LARRY: I don't even remember it, so that gives you an idea.
STICKMAN: To me, whilst the film itself was ....a mixed bag, the cameo in Spider-Man 3 really summed up Stan Lee to me. It's pretty cheesy and comic book'y, but full of heart. Him having a face to face talk with the most famous of his creations about what it means to make a difference? Pretty great stuff. Most of his cameos are throw-away jokes or gags, but this one had meaning behind it.
MADHERO: Yeah, that one is probably my favorite as well. His Spider-Man cameos in general are pretty strong. While 1 and 2 are blink and you'll miss him, his part in Amazing Spider-Man was the highlight of that film for me.
LARRY: Yeah the Amazing Spider-Man cameo is a ton of fun even if that scene as a whole is generally meh. The one from the first Avengers was also one that, to me, was a very funny jab at his age. It was also the first one I saw after acknowledging Stan Lee was doing this Marvel cameo stint, so seeing it on a big screen and recognizing it and going, "HEY ITS STAN," with a big audience no less, was tons of fun.
STICKMAN: I felt the Avengers one was a bit of a let-down personally.
MADHERO: I like his Age of Ultron one better, where he gets drunk with the boys. And we hear him say excelsior for the first time in the movies
LARRY: Don't forget the one from GotG. Gettin comfy with the ladies
STICKMAN: GotG 2 brought all the MCU ones together.
MADHERO: Yeah, his GOTG Vol.2 confirming the Watcher theorywas a lot of fun. That's up there for me as well. Its also really hard to beat Tony Stank in Civil War.
STICKMAN: A nice bit if levity in what felt like the darkest ending the MCU had gotten....until Infinity War that is.
MADHERO: His Infinity War onecould've been better, but its pretty difficult to give him room in such a packed film. Even if its not particuarely good, there's also something fun about Stan Lee trying to sneak into the wedding of his first created characters in Rise of the Silver Surfer
S
TICKMAN: Frankly, it's going to be weird to go to see films post Infinity War 2 and think we'll never see a cameo from him again. It became part of the experience.
LARRY: For sure. They'll definitely dedicate the films to him.
MADHERO: Yeah, my guess is that the last time we'll see him is in Far From Home, which feels appropriate considering Spidey is the one most dear to him
STICKMAN: It's gonna be the worlds most emotional cameo appearance.
LARRY: Better be good, then. Almost a little too much to live up to...the LAST Stan Lee cameo...
MADHERO: Going away from the movies, I also really liked his cameo in the 90's animated series. Its a fun note to end the show on, getting Spidey to meet his creator. And it even featured his wife Joan, which I think only ever happened in X-Men Apocalypse
STICKMAN: Let's not talk about X-Men Apocalypse. But yeah, it's fair to say two of the best Lee cameos involved him having a heart to heart with Spidey.
MADHERO: I think we've got about everything out of our system. All I can really say to him and his family is nothing but sheer gratitude for the joy and lessons his characters have brought all over the world. I'm glad he got to truly experience that love from his fans and seeing his characters be so appreciated all across the globe, and will continue to long after his lifetime.
STICKMAN: The older Lee got, the more inevitable this sad day coming became....I mean, closer at least. But even so, it was still a shock to think someone so full of life was actually gone. I'm not the biggest expert on his career, but all I know is he provided me with some of my favourite characters and childhood inspirations....and was also just a fun guy to see around, be it in films or just in interviews. And that time he was a LEGO Hulk in a video game.
LARRY: May he rest in the highest of heavens knowing he lived a long and influential life. Godspeed, and Excelsior!
MADHERO: Excelsior
STICKMAN: Yeah, that.