It's an interesting time for Marvel right now. We're smack dab in the middle of a changing of the guard. Many of the cornerstone characters aren't expected to make it out of the still untitled Avengers 4 while the newer, more fun characters like Spider-Man, Black Panther, the Guardians of the Galaxy and Ant-Man are going to be shouldering the weight of the MCU going forward.
There's two movies between Infinity War and whatever its sequel will be called: Ant-Man and the Wasp and Captain Marvel. Infinity War is the culmination of 10 years of Marvel cinematic storytelling and, as such, the film has a weight to it. Yes, people die and there are massive stakes, but even more than that the film has to shoulder an epic scope worthy of being the endgame of 10 years of tentpole filmmaking.
So when I say that Ant-Man and the Wasp is a step back into a more innocent MCU style it's not a condemnation. It's a little refreshing, actually. The stakes here are personal and once again rooted in family. It's not the end of the world if Scott Lang and Hope van Dyne fail, but the emotional stakes are just as high for the characters.

Ant-Man and the Wasp checks off all the MCU boxes. Young-ified actors in an opening flashback? Check. Goofy leading man? Got it. Light-hearted action scenes? Yeppers. Sons and daughters with mommy and/or daddy issues? All of it.
The movie begins with Scott Lang on house arrest for helping out Captain America in Civil War. He's at the end of his two year sentence, just days away from having his ankle bracelet removed and being able to leave the confines of his admittedly very nice house. He can finally be a full father to his daughter and put his life of crime and crime-fighting behind him.
Of course that's now how things play out. He's pulled into another adventure by Dr. Hank Pym and his daughter, Hope, and has to dodge his strangely nice FBI handler (played by the hugely likable Randall Park), keep ahead of a charismatic crime boss (Walton Goggins) and somehow fight a mysterious masked stranger who can phase in and out of reality (Hannah John-Kamen).
Scott has some vital information that may save the original Wasp from the Quantum Realm, but is up against too much to face alone. There's not really a whole lot of resistance from him about teaming up with the Wasp, but that's okay. It fits his character and it's kind of nice to see a guy accept a strong female partner pretty much right off the bat instead of having to dramatically cope with his vision of his masculinity under threat.
Paul Rudd and Evangeline Lilly are just as strong together in costume as they were as normal people in the first movie and Lilly in particular gets a lot of time in the spotlight here. She's way more proactive, pushing the narrative as she desperately tries to save her mother. Because Scott has to stay hidden or risk losing his family there's a story reason for Wasp to be the face of the fight and their main villain is powerful enough to warrant the tag team action.
I found Ghost to be interesting, but a two-dimensional (yuk-yuk-yuk). Her character is tortured, in pain, and just wants to find a solution to her problem. That solution lies in Pym's tech and she doesn't care who she has to hurt (or even kill) to save her own skin. That's very rich, fertile ground, but just as soon as they introduce her they throw her out of the narrative for a full act. When she comes back into the fray she's almost cartoonishly villainous.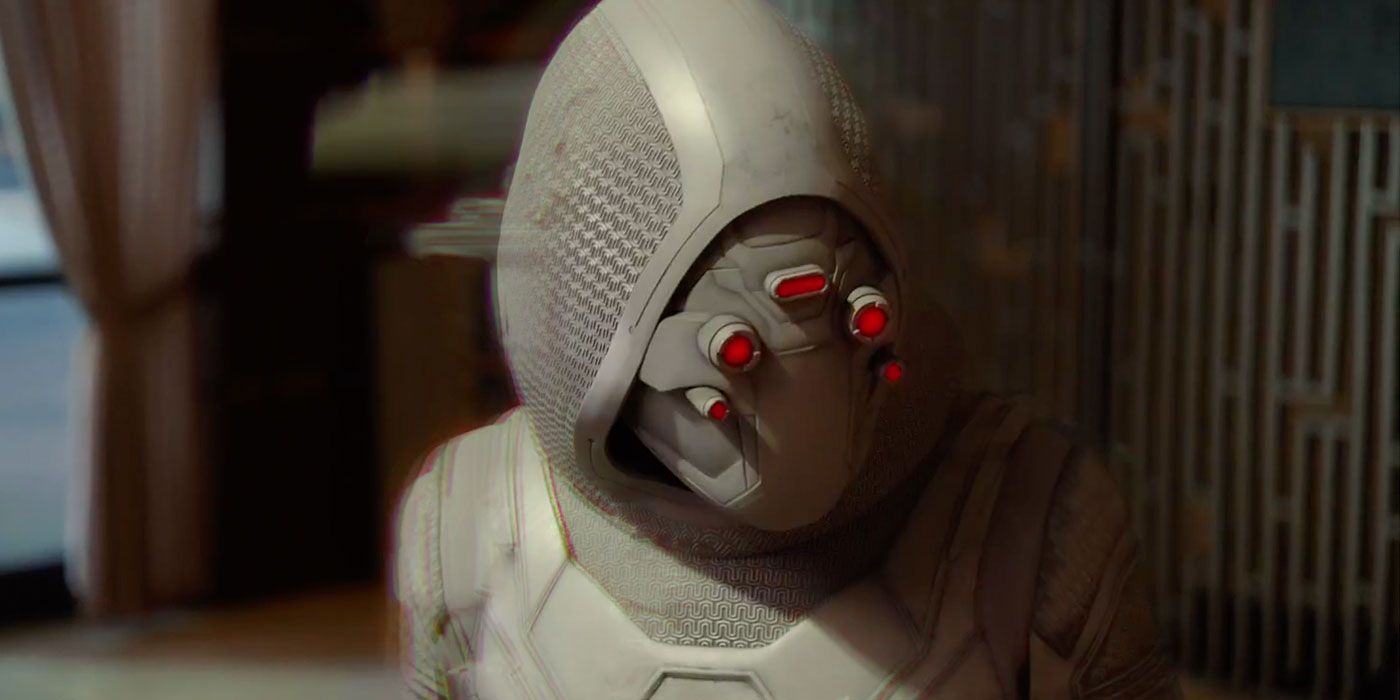 That's not a knock on Hannah John-Kamen's performance. She gives it her all and you can feel a character in pain in every moment of her screen time, but she's let down a little bit by the script.
Speaking of there's a whole lot of telling instead of showing going on here. There are multiple moments where characters have long speeches telling you exactly who they are or exactly what they're doing. It effectively gets that information across, but it feels a little lazy to me. I much prefer finding out these details through the story unfolding instead of being told everything right up front.
The funny thing is they make a joke out of this exact kind of monologuing early on with Randall Park's character, but then they proceed to actually do it right afterwards! It's like they were apologizing in advance for the shortcuts they were about to take.
On a technical side this feels more fully a Peyton Reed joint. You can still feel some of Edgar Wright's fingerprints on the first movie, but this one is totally Reed and Paul Rudd. The goofy stuff is at the forefront (I mean, you saw the giant ant playing drums in the trailer, right?) and the action scenes are fun, but a bit on the standard side. The focus instead is on character emotion and making damn sure you have a good, light, fun time at the movies.
That's not a bad thing, but if you don't find yourself automatically on the Marvel train then you probably aren't going to love this one. On the other hand, if you're down with the MCU then you'll enjoy yourself here.
Once again Michael Peña and Scott's ragtag friends steal the show. Peña has so much heart and childlike awe and wonder that it can't help but infect the audience with his positivity. Both TI and David Dastmalchian get expanded roles, too, and are so fun together that I'd totally watch a movie of just those guys running a security company as all the superhero shit goes down off-screen.
Laurence Fishburne and Michelle Pfeiffer are good additions to this universe. Pfeiffer gets to be pretty badass but doesn't have a whole lot to do just yet. Fishburne's character's troubled history with Hank Pym is some of my favorite new stuff added in this film. Bill Foster has a solid moral compass, but has also been harboring resentment towards Pym for decades. Again, nice rich character detail but it's pretty background stuff.
I don't know what it says about the movie that some of its flaws is that there's way too much good stuff in there that I wanted to see more of. If Walton Goggins had 20 minutes more screentime I wouldn't have been upset about that, either.
At the end of the day, this flick is fun and adds a few more shades to the MCU. That's all it wants to do and it delivers. It'll be a good test to see if audiences on the whole reject a return to a more slight, character-focused version of an MCU movie or if post-Infinity War they will only accept huge superhero movies with 17 characters on screen at any given time. I have a feeling it's the former, but we'll soon see. 
All I know is I liked it and feel good recommending it to people. It won't change your life, but you won't feel ripped off paying for a ticket to see this one big.